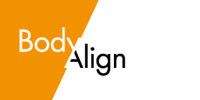 This short survey will help us to further understand our clients needs.
BodyAlign is a new wellbeing and movement boutique studio with a focus on getting the body functional and strong, along with the overall wellbeing and health of our clients.

We are now in the process of setting up a new space offering smaller tailored Pilates classes using the spine corrector and private session and would like to get your views so we can tailor our offering.
Start Survey